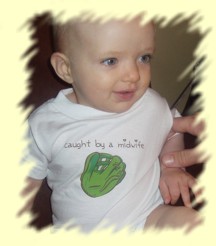 Support midwifery in the Ottawa area by purchasing an adorable "Caught By A Midwife" Onesie or Tee-shirt!
Please note: the campaign is temporarily on hold as we are working on creating a new onesie design. Please check back soon.
The Onesie (white 100% cotton, snap-crotch, size 6 or 12 months) has an apple-green catcher's mitt
with the phrase "Caught by a Midwife" in lovely chocolate brown on the chest.
The perfect new baby gift, and generously-sized enough for an older midwifery baby!
T-shirts available for your older children in size 2, 4, and 6. Order one today!
For just $10 you can proudly proclaim your allegiance to midwifery care, with all proceeds going to the Consumers Supporting Midwifery Care to support our advocacy activities.
Hope to see your fashion-forward baby wearing one soon!
If you would like to buy a shirt, email Sheila at mcintysm@potsdam.edu or save time and place the order using the PayPal form below: